Al Jazeera English App for Smart TVs is globally distributed Via ZEASN
BEIJING, May 2020
- Al Jazeera Media Network has launched a newly-built Al Jazeera English application on Beijing ZEASN's Whale Operating System, which will make the channel available across 50 TV brands and will cover more than 100 countries around the world.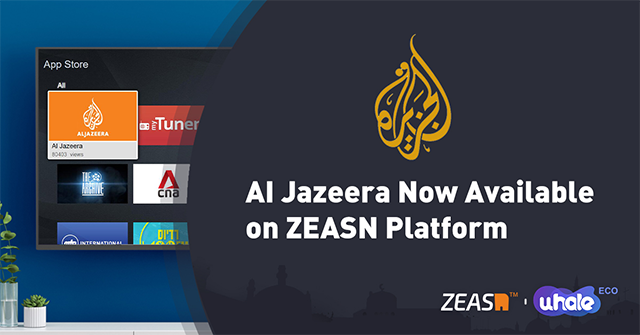 The application was launched on Thursday, April 9, 2020 after an agreement was signed between Al Jazeera Media Network and Beijing ZEASN Information Technology.
"This partnership will further our presence and reach to our audiences around the world amidst the digital leap that provides people with various means to follow their favorite channels," said Abdulla AlNajjar, Executive Director of Global Brand & Communications Division.
"Our partnership with ZEASN is a great step towards achieving our strategic goals because ZEASN is a reputable international smart TV solutions provider which would secure distributing our content through the application in more than 100 countries," AlNajjar added.
Jason He, Chief Executive Officer of ZEASN, said "ZEASN is proud to partner with Al Jazeera Media Network to launch and distribute the Al Jazeera App highlighting their rich library of content. As one distinguished and independent global news organization, Al Jazeera always strives to provide comprehensive news and live debate for audiences around the world. This agreement plays an integral role in our mission to deliver our excellent services and programming to viewers all across the globe, opening up our Whale Ecosystem to a whole new audience."
About ZEASN
Beijing ZEASN Information Technology Co., Ltd. was established in 2011. The company focuses on the intelligent home industry. Through self-developed cloud services and tool products, ZEASN has established the Whale Ecosystem with global developers, content providers, service providers, and top tier manufacturers.
ZEASN provides customized and diversified intelligent home solutions for many brands covering more than 100 countries or regions around the world. Whale OS is the core product of its Whale Ecosystem. ZEASN takes 'BRING THE WORLD HOME' as its mission, and aims to become the most innovative company in the intelligent home industry. To find out more, please visit: https://www.zeasn.com/
PR Contact for ZEASN:
Michael Lan
Global Marketing Manager
michael.lan@zeasn.com