iQIYI International Expands Global Footprint with Launch on ZEASN's Whale Eco
IQIYI INTERNATIONAL EXPANDS GLOBAL FOOTPRINT WITH LAUNCH ON ZEASN'S WHALE ECO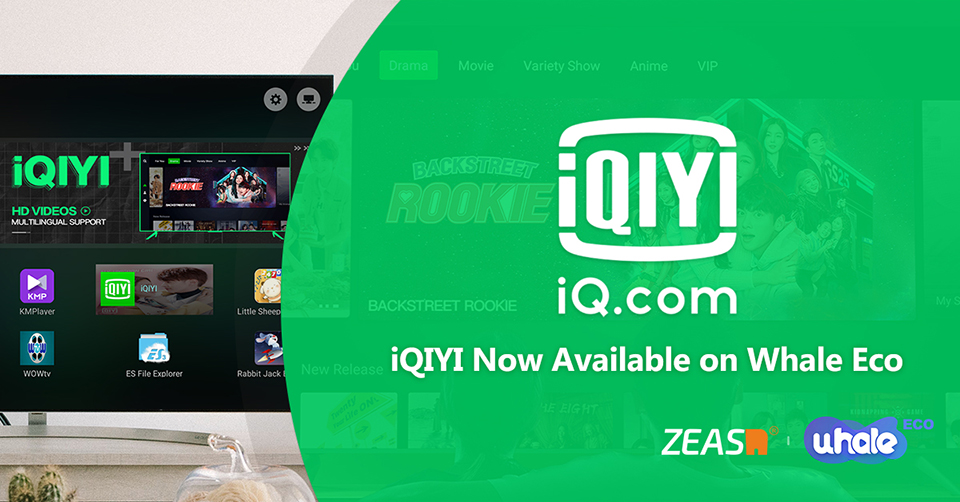 Singapore, November 2020
- ZEASN, the world's leading provider of OTT and Smart TV solutions, today announced a partnership with iQIYI International, an on-demand video streaming platform that brings high quality and premium Asian content to an international audience. Through this partnership, the iQIYI app now has been made available on tens of millions of ZEASN supported smart devices across the world.
iQIYI International
is owned by iQIYI, Inc. (NASDAQ: IQ), one of the major streaming platforms in China and is currently one of the largest online video sites in the world. Users can enjoy a vast streaming library and features within the app, including over 3000 high quality Chinese dramas, Korean series, variety shows and anime). A growing selection of exclusive & global videos are also added frequently to the service, which offers both free ad-supported and subscription-based VIP memberships.
iQIYI International has made expanded rapidly in the Southeast Asia market since it launched internationally in June 2019. With the goal to become the home of beloved pan-Asian content globally, this partnership with ZEASN will further extend iQIYI's presence on large screens and strengthen its brand recognition in key markets around the world.
Whale Eco is a brand new home digital entertainment ecosystem created by ZEASN. The ecosystem is centered on Whale OS (a revolutionary operating system for smart devices) based on professional and secure IT cloud services, powerful SaaS cloud platforms, and diverse smart devices. Whale Eco brings together content service partners, technical service providers, advertising service providers, and device manufacturers to provide personalized and wonderful life for smart device users all over the world.
Commenting on the collaboration,
Jason He, Chief Executive Officer of ZEASN, said
, "We are extremely delighted that iQIYI has chosen ZEASN to extend their smart TV footprint. Through our well-established Whale Eco, we can help iQIYI deliver its diverse content to tens of millions of smart devices, thereby growing app engagement, usage, and revenue. Our goal is to bring unparalleled viewing experiences to audiences around the world, while also helping our partners achieve success through Whale Eco."
About iQIYI International
Headquartered in Singapore, iQIYI International is an on-demand video streaming service providing beloved pan-Asian entertainment to international viewers. Offering both ad-supported and VIP subscription services, iQIYI International delivers premium drama series, movies, variety shows, and anime; with local languages and subtitles; powered by cutting-edge technology. iQIYI International also makes its technology available to other entertainment services through SaaS partnerships. iQIYI International can be enjoyed on any device via iQ.com and the app. iQIYI International is owned by iQIYI, Inc. (Nasdaq: IQ).
About ZEASN
ZEASN Information Technology Co., Ltd. was established in 2011. The company focuses on the intelligent home industry. Through self-developed cloud services and tool products, ZEASN has established the Whale Ecosystem with global developers, content providers, service providers, and top tier manufacturers.
Whale Eco works closely with many of the world's most recognizable brands, including Philips, TCL, Haier, AOC, Sharp, BenQ, Konka, Changhong, NovaTek, Amazon, Google, Alibaba, Huawei, DSP Group, and etc. Whale OS is the core product of its Whale Ecosystem. ZEASN takes 'BRING THE WORLD HOME' as its mission, and aims to become the most innovative company in the intelligent home industry.