AOC Brazil Launches New Smart TV Powered By ZEASN's Flexible Whale OS Turnkey Solution
AOC BRAZIL LAUNCHES NEW SMART TV POWERED BY ZEASN'S FLEXIBLE WHALE OS TURNKEY SOLUTION
Brazil, December 2020
- ZEASN, the world's leading provider of OTT and Smart TV solutions, today announced the arrival of its Whale OS Turnkey Solution in Brazil. By partnering with TPV Group, one of the world's leading monitor and LCD & LED TV manufacturers, along with being a consumer electronics key player in the field of audio-visual digital entertainment, the Whale OS powered new AOC Smart TV Series 6305 (Model 50U6305) has successfully launched in Brazil recently. It is expected that other new AOC TVs (also running Whale OS) will soon be mass-produced and shipped in other South American countries.
AOC's new Smart TV Series 6305, has a 50-inch LED panel (4K Ultra HD) and supports for HDR10+, Dolby Vision and Dolby Atmos. The new AOC Smart TV is based on Xmart platform, which adopts the Whale OS Turnkey solution from ZEASN and enables users to more easily access their favorite music, videos, movies, series, documentaries and more. With pre-installed localized applications, shortcut keys and other dedicated features, it can ensure even more fun for consumers in Brazil.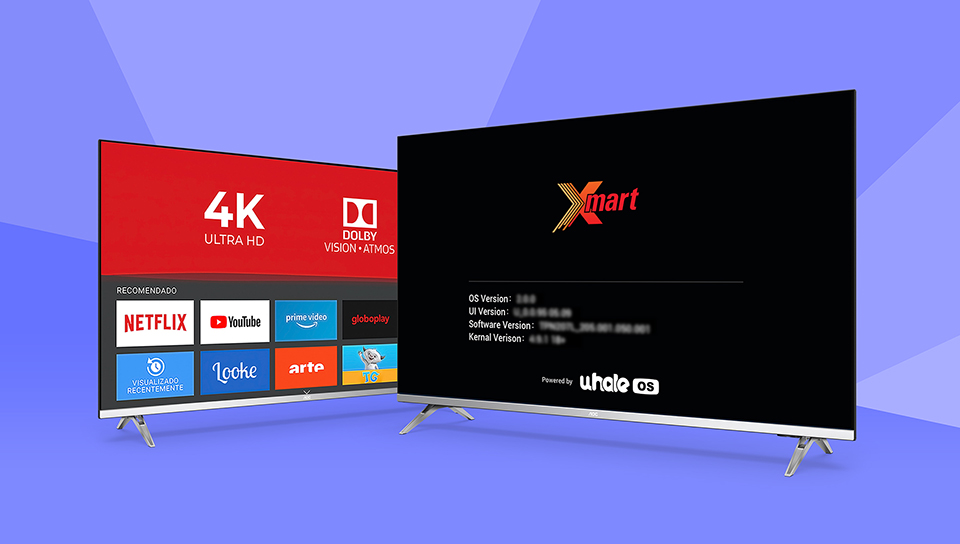 AOC New Smart TV Powered by Whale OS
The Whale OS Turnkey Solution is one robust, flexible and powerful solution for viewing diverse content on a variety of entertainment smart devices. It is designed to deliver best in class and immersive digital streaming experiences. The state-of-the-art solution is pre-configured with cutting-edge content discovery and search engine which is based on ZEASN's years of technical experience in the smart TV industry and deep cooperation with a large number of localized top Apps. It can easily provide users with intuitive and rich content recommendations.
It also supports a variety of monetization models, with maximum flexibility and simplified deployment strategy for content or service providers around the world. In addition, the solution uses industry-leading system architecture design to provide smart TV users with a wealth of setting functions, including Source, Picture, Network, Channel, Parental Controls and personalized Account options, etc.
"We are so excited to bring Whale OS to Brazil, one of the largest streaming markets in the world. Through our simple yet flexible Turnkey Solution, consumers in Brazil will enjoy a huge catalogue of compelling and diverse entertaining content on their new AOC television."
said Jason He, Chief Executive Officer of ZEASN.
"As a pivotal member of the Whale OS product family, the Turnkey Solution will help our Whale Eco's partners to build and monetize large audiences with ease, and at the same time boost the rapid growth of ZEASN's value-added services. "
As a revolutionary operating system for smart devices, Whale OS is the core part of ZEASN's Whale Ecosystem. Through self-developed cloud services and tool products, ZEASN has established the Whale Ecosystem with global developers, content providers, service providers, and top tier manufacturers since 2018. Now Whale Eco works closely with many of the world's most recognizable brands.
With nearly 10 years of experience in the Smart TV industry, right now ZEASN has provided more than 100 brands with customized and diversified digital entertainment solutions covering over 190 countries. Today more than 30 million consumers are happily using Whale Eco enabled connected smart devices every month.
About TPV
The TPV Group has been in Brazil since 1997 and has a factory in the Manaus Free Trade Zone, where it also produces as OEM for several brands with local and international operations. TPV Technology Limited is the leading global manufacturer of LCD screens. It currently produces monitors and TVs in the country and imports a line of headphones, with its own brand AOC, Philips brand (under license, for Monitors, TVs and Audio) and OEM for various brands with local and international operation. It has more than 60 retail chains, 16 authorized distributors and more than 20 thousand specialized resellers across the country. Present worldwide it has factories distributed in 12 countries with more than 30 thousand employees, TPV grows every year, bringing innovation, design and technology to its award-winning products. The TPV Group has been listed on the Hong Kong and Singapore stock exchanges since October 1999.
For more information, please visit: www.tpv-tech.com.br .
About AOC
AOC is the brand of TPV Technology Limited, the largest manufacturer of LCD and LED panels for computers and televisions in the world. AOC adopts the concept "with AOC is possible", with the objective of showing that the brand's products give people the opportunity to have access to technology through an excellent cost-benefit ratio. The complete lines of AOC products can be found in the main Distributors, Resellers and Retailers in the national market.
About ZEASN
ZEASN Information Technology Co., Ltd. was established in 2011. The company focuses on the intelligent home industry. Through self-developed cloud services and tool products, ZEASN has established the Whale Ecosystem with global developers, content providers, service providers, and top tier manufacturers.
Whale Eco works closely with many of the world's most recognizable brands, including Philips, TCL, Haier, AOC, Sharp, BenQ, Konka, Changhong, NovaTek, Amazon, Google, Alibaba, Huawei, DSP Group, and etc. Whale OS is the core product of its Whale Ecosystem. ZEASN takes 'BRING THE WORLD HOME' as its mission, and aims to become the most innovative company in the intelligent home industry.