ZEASN AND LINE TV PARTNER TO BRING ITS TRENDING CONTENTS TO SMART TVS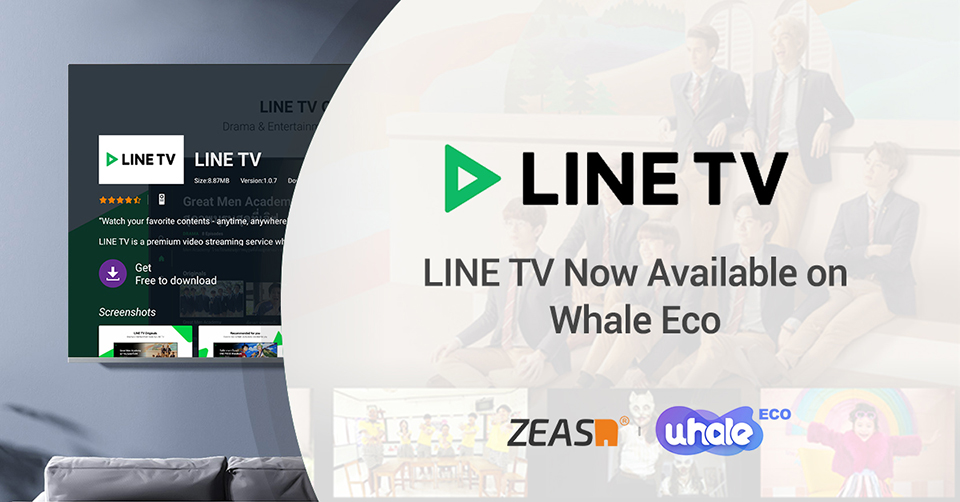 Thailand, January 2021
- ZEASN, the world's leading provider of OTT and Smart TV solutions, today announced that Thailand's prime online video platform LINE TV has successfully launched on its Smart TV App Store (ZEASN App Store). The partnership with ZEASN now brings LINE TV's high-quality video content with a variety of categories such as TV dramas, entertainment shows, movies, Y-series, music videos including best in class original contents to millions of ZEASN-supported Smart devices across Thailand.
It is noteworthy that the ZEASN App Store V3.0 was newly released by ZEASN in September last year. Based on the AOSP platform, this brand-new Smart TV App Store adopts innovative minimalist design style, smooth operation experience, and a series of new functions such as One-click Update, Silent Installation, Batch Uninstall Apps, Advertising Configuration Optimization, support XAPK application installation, and others. Looking back, the first ZEASN Smart TV App Store was launched in 2012. And in the past 8 years, ZEASN has provided more than 100 customized TV app stores (with different types and user interactions) for nearly 100 TV brands around the world.
The new version of App Store focuses on the core of the large TV screens: information content and equips with ZEASN's self-developed intelligent recommendation algorithm, which can intelligently recommend different entertaining content for each user. For Smart TV viewers in Thailand, LINE TV is one of the latest featured apps on ZEASN App Store.
LINE TV is an outstanding video streaming service as well as one pioneer and biggest producer of Original Content in the Thai OTT market. As part of the popular social messaging app company LINE, which is the fastest growing mobile messenger app in the world, LINE TV offers an unparalleled library of curated content catering to Thailand internet users. From TV reruns, original contents, music experience, to miscellaneous content including music videos, animation, sports, variety, and movies.
This partnership further strengthens LINE TV's status as one of the most important OTT players across Thailand, introducing its contents to a wider audience and accelerating its OTT business under ZEASN's support. Moreover, LINE TV will further cooperate with ZEASN, to take its diverse streaming content to another one of the key markets in Asia: Taiwan soon, and continue to strengthen its presence on large screens.
Winson Chen, Chief Operating Officer of ZEASN comments:
"We are incredibly excited and honored that LINE TV has chosen ZEASN as their first AOSP platform partner. We believe that LINE TV has great potential in the Southeast Asian OTT market, through the collaboration, ZEASN will dedicate to help them increase the scale of its Smart TV footprint and expand its audience base, making it easier for Asian users to embrace top tier streaming contents that LINE TV has to offer."
About ZEASN
ZEASN Information Technology Co., Ltd. was established in 2011. The company focuses on the intelligent home industry. Through self-developed cloud services and tool products, ZEASN has established the Whale Ecosystem with global developers, content providers, service providers, and top tier manufacturers.
Whale Eco works closely with many of the world's most recognizable brands, including Philips, TCL, Haier, AOC, Sharp, BenQ, Konka, Changhong, NovaTek, Amazon, Google, Alibaba, Huawei, DSP Group, and etc. Whale OS is the core product of its Whale Ecosystem. ZEASN takes 'BRING THE WORLD HOME' as its mission, and aims to become the most innovative company in the intelligent home industry. To find out more, please visit: https://www.zeasn.com/
About LINE TV
LINE TV is a premium online video platform that aims to be an Everyday Enjoyment Hub for Thais, with access to over 40 million viewers. Users can watch content for free from mobile phones, tablets, notebooks, computers, Apple TV or Android TV. Packed with over 1,000 quality content that covers everything from drama, series, sitcom, and animation to Thai and international movies. It aims to rule the Thai OTT TV (Over-the-Top TV) content in the country and is a trustworthy partner to over 250 content partners.
LINE TV is also the most popular TV rerun platform with over 6 billion views per year. It is the pioneer and biggest producer of Original Content in the Thai OTT TV market, with 78 titles (as of 2020). In its role to help expand Thai content in this digital era, LINE TV has partnered with content creators of all levels and its original content have also won numerous awards both in Thailand and at international level.