Thank You for 10 Years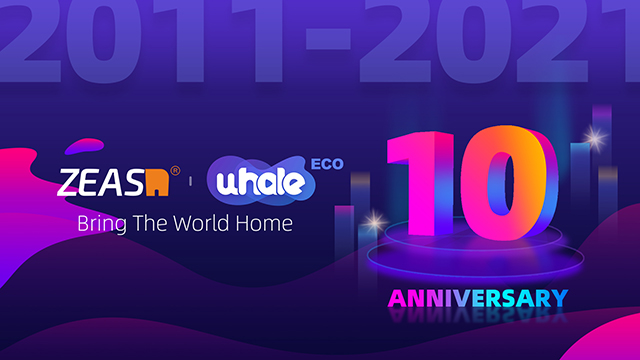 We turn 10 today!
On January 14, 2011, ZEASN was established in Beijing. Over the past ten years, we have focused on the field of intelligent home, adhered to technological innovation and globalization strategies, and actively cooperated with the world's top TV manufacturers, leading TV chip designers, board solution providers, advertising service providers, and content providers. We always take "Bring The World Home!" as our mission. After ten years of journey, ZEASN has grown into the world's leading provider of intelligent home solutions and services.
The past ten years have been a decade of rapid development for ZEASN. With Beijing, China as our global headquarters, we have successively established branches in Taipei, Fuzhou, the Netherlands, Hong Kong, India, Brazil, Argentina, Russia, France, and Shenzhen.
Our software products start from Smart TV App Store, Launcher, to customized Apps, ZEASN Cloud Services, Whale OS, Whale Voice Assistant, Turnkey solutions, and then extend to provide services for smart speaker, smart photo frame, smart projector, AI Connector, and other smart devices. In 2020, we also launched two great services: one-stop movie viewing platform WhaleTime, and the new Ad-supported free live streaming service WhaleLive.
So far, ZEASN Cloud Services has provided more than 100 brands with customized and diversified intelligent home solutions covering more than 190 countries and regions. At the same time, more than 50 million global users are happily using digital home entertainment devices such as smart TVs and set-top boxes powered by ZEASN's services.
While celebrating the 10th anniversary of ZEASN, we are grateful to all the partners and loyal users who accompanied us along the way, thank you for your support and encouragement. Entering 2021, ZEASN will always practice the core values of "Integrity, Pragmatic, Innovative, Passionate, Progressive", stay true to ourselves, forge ahead, and continue to set sail towards our great vision: "Become the most innovative enterprise in the field of intelligent home".
Thank you for 10 years! Here's to many more.