ZEASN JOIN FORCES WITH NEW ID, INCORPORATING POPULAR K-CONTENT IN WHALELIVE
ZEASN JOIN FORCES WITH NEW ID, INCORPORATING POPULAR K-CONTENT IN WHALELIVE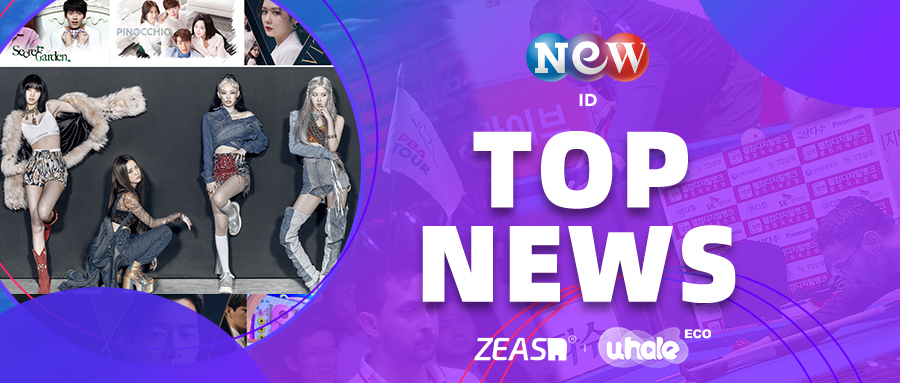 SEOUL, South Korea, April 2021 - ZEASN, the world's leading provider of OTT and Smart TV solutions, today announced a partnership with NEW ID, a subsidiary of NEXT ENTERTAINMENT WORLD (NEW), a major entertainment, media, and sports powerhouse in South Korea. To expand the Korean entertainment content available to WhaleLive viewers in the US, Canada, Mexico, Brazil, UK, Germany, France, Spain, Italy, Austria and Switzerland.

NEW ID is currently the only FAST (Free Ad-supported Streaming TV) platform operator in Korea. Along with a vast catalog including the latest movies, dramas, and sports content from its parent company NEW, the company holds content partnerships with more than 30 Korean content providers. These partners include Korea's leading television networks, digital content production companies, K-POP entertainment agencies, and OTT operators. Through the partnerships, NEW ID provides a channel with the most diverse and latest Korean entertainment programming to viewers across North America , Europe, and South America.

The cooperation between ZEASN and NEW ID enables both parties to better service audiences on large screens around the world. NEW ID will be launching several digital channels first through WhaleLive this month, including YG TV, SBS, NEW K.ID, muKbang TV, and Billiards TV. Meanwhile, ZEASN will be providing robust and stable technical support to ensure smooth running of these live streaming channels. The collaboration will bring a positive impact on ZEASN, the Korean entertainment provided by NEW ID is unquestionably going to boost the overall quality and coverage of live streaming contents of WhaleLive.

The digital channels included in the partnership are:

1. YG TV - the only YG Entertainment official branded channel, with exclusive YG TV content featuring the agency's top groups and artists, from BLACKPINK,WINNER, G-Dragon and Taeyang.

2. SBS (UK, DE, FR, ES, IT, AT, CH) - the first Asian TV network branded channel broadcasted on Europe's FAST platform. Features premium Korean entertainment from the latest hit dramas to hit music program SBS Inkigayo.

3. NEW K.ID - NEW ID's flagship channel with the latest selection of top-rated K-POP entertainment, with live performances, concerts, and reality TV shows featuring famous K-POP idols, and popular Korean dramas, and documentaries.

4. muKbang TV - an unrivaled blend of mouthwatering food and entertainment content featuring Korean cooking recipes and food related variety tailored for global audiences.

5. Billiards TV - the only sports channel in the world dedicated to professional billiards, streaming tour championship competitions 24/7.

"We are thrilled to welcome NEW ID to our WhaleLive family, because they are one of the most recognizable Korean content powerhouse," said Winson Chen, Chief Operating Officer (COO) of ZEASN. "This is the first time we will integrate the popular Korean entertainment content into WhaleLive and our collaboration with NEW ID will expand our impressive content offerings. We always look forward to working with more great content providers of different varieties to enrich our portfolio, hence to provide our users with a wider range of choices and better viewing experience".

"NEW ID offers a growing content catalogue strategically curated to meet the growing demand for Korean entertainment beyond mainstream media." said June Park, CEO of NEW ID. "We are delighted to expand the global reach through this partnership with ZEASN and are especially excited to see how well our content is received since this is the first time our content will be broadcast to viewers in England. This partnership marks the beginning of a very significant relationship for great synergy as we work together as one towards delivering more premium content to global audiences."

Since August 2020, ZEASN launched its free ad-supported live streaming service WhaleLive under Whale Eco, a large number of premium digital channels has been incorporated and the service has been constantly improved, and various new features are added too, such as improved EPG, optimized UI and interaction tweaks, etc. Right now ZEASN is also busy deploying WhaleLive to more smart devices all over the world.

About ZEASN
ZEASN Information Technology Co., Ltd. was established in 2011. The company focuses on the intelligent home industry. Through self-developed cloud services and tool products, ZEASN has established the Whale Ecosystem with global developers, content providers, service providers, and top tier manufacturers.

Whale Eco works closely with many of the world's most recognizable brands, including Philips, TCL, Haier, AOC, Sharp, BenQ, Konka, Changhong, NovaTek, Amazon, Google, Alibaba, Huawei, DSP Group, and etc. Whale OS is the core product of its Whale Ecosystem. ZEASN takes'BRING THE WORLD HOME' as its mission, and aims to become the most innovative company in the intelligent home industry. To find out more, please visit: https://www.zeasn.com/

About NEW ID
NEW ID is a media platform company connecting the world to premium Asian content through connected TV platforms. Established in October 2019, the company's main business focuses on delivering content on leading global FAST (Free Ad-supported Streaming TV) platforms by providing industry-leading tech solutions necessary for real-time streaming and advertising. NEW ID also provides a streamlined localization service, with an AI-based platform that significantly shortens content delivery times to global audiences without compromising quality. With over 30 content partners in Korea and a rapidly growing global platform network, NEW ID is expanding its global presence and positioning itself as Asia's leading FAST platform provider in the global media market.