Tencent's WeTV Now Available on ZEASN's Whale Eco, Providing High-Demand Streaming Contents to The Asian TV Viewers
TENCENT'S WETV NOW AVAILABLE ON ZEASN'S WHALE ECO, PROVIDING HIGH-DEMAND STREAMING CONTENTS TO THE ASIAN TV VIEWERS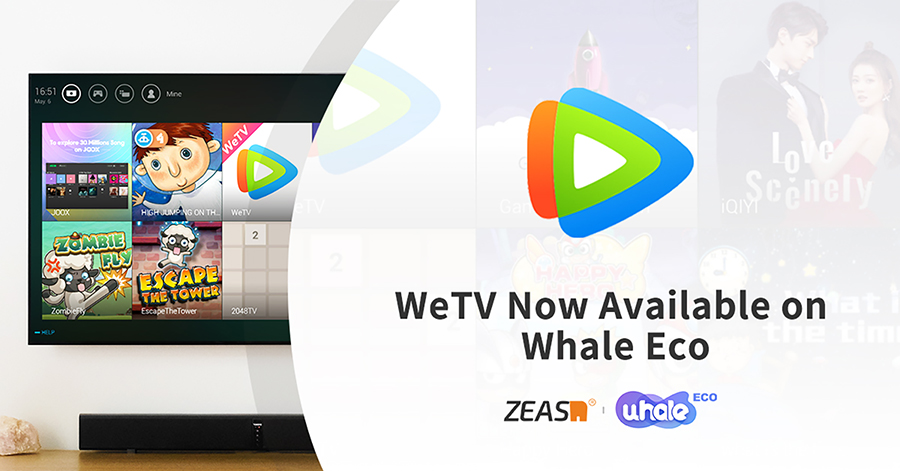 Hong Kong, May 2021
- ZEASN, the world's leading provider of OTT and Smart TV solutions, welcomes Tencent's WeTV to join the Whale Eco family, bringing a variety of top-hit Asian contents through their standalone Smart TV app. WeTV is the international version of Tencent Video (the leading video app in China), the collaboration enables fans and audiences in Malaysia, Indonesia, Philippines, Singapore and Thailand to enjoy WeTV's trendy, high-quality content through ZEASN enabled smart devices.
Whale Eco is a home digital entertainment ecosystem introduced by ZEASN in 2018. Since its inception, Whale Eco works closely with many of the world's most recognizable brands, ZEASN's goal is to encourage the success of all partners in Whale Eco, and bring the unparalleled user experiences to audiences across the global. ZEASN's products include Whale OS - the core part of Whale Eco, as well as a revolutionary operating system for various smart devices.
ZEASN's Whale Partner Portal offers a number of valuable resources for developers, from Device Validation, Debugging, Cross-platform Adaptation, Development Docs, Platform Tools, to App Certification, Publishing and much more. It is worth mentioning that the WeTV App is also submitted and built through ZEASN's Partner Portal.
WeTV is a leading video streaming service launched in 2018, which is now one of the largest digital video streaming destinations in several Asian markets, including Thailand, Hong Kong, Malaysia, Indonesia, and Singapore. The content offering of WeTV includes popular tv series, variety shows, special events and anime from China, Korea and Thai. Through the help of ZEASN, WeTV further expands its footprint on the big screen. The collaboration not only enables Smart TV viewers to enjoy highly demanded contents, but the process and experience of watching them.
"We're absolutely thrilled to partner with Tencent. It is a significant move to include WeTV in Whale Eco and to offer highly demanded Asian contents through Whale Eco-enabled smart devices constantly."
Commenting on the collaboration, Winson Chen, Chief Operating Officer (COO) of ZEASN said,
"Introducing contents from such a recognized industry player with great popularity definitely improves the user experience of Whale Eco by widening choice range and enriching the content catalogue. Combing ZEASN's cutting-edge technology and professional support with wonderful trending content, we expect great outcomes for both parties."
"We are deeply honored to be a partner with ZEASN this time to expand the international market together."
said Phoebe Tsai, New Market Business Lead, WeTV.
"OTT is an unstopable trend. WeTV and ZEASN will work hand in hand to provide top class entertainment audiovisual services to global users."
About WeTV
WeTV is a leading online video streaming service that provides popular content including tv series, variety shows, special events and anime from China, Korea and Thai. Operating as a freemium service, WeTV ensures high quality content can be accessed from all kinds of smart devices, such as Mobile, desktop, tablets and smart tvs in Hindi, Indonesian, Thai, Chinese (Traditional), Chinese (Simplified) and Vietnamese.
About ZEASN
ZEASN Information Technology Co., Ltd. was established in 2011. The company focuses on the intelligent home industry. Through self-developed cloud services and tool products, ZEASN has established the Whale Ecosystem with global developers, content providers, service providers, and top tier manufacturers.
Whale Eco works closely with many of the world's most recognizable brands, including Philips, TCL, Haier, AOC, Sharp, BenQ, Konka, Changhong, NovaTek, Amazon, Google, Alibaba, Huawei, DSP Group, and etc. Whale OS is the core product of its Whale Ecosystem. ZEASN takes 'BRING THE WORLD HOME' as its mission, and aims to become the most innovative company in the intelligent home industry. To find out more, please visit: https://www.zeasn.com/