ZEASN Releases New Whale Photo OS for Digital Photo Frames, Powered by Its Newly Launched Smart Voice Solution Whale AI Voice
ZEASN Releases New Whale Photo OS for Digital Photo Frames, Powered by Its Newly Launched Smart Voice Solution Whale AI Voice
Hong Kong, July 2021
- ZEASN, the world's leading provider of OTT and smart TV solutions, today rolls out its all-new Whale Photo OS for digital photo frames. The major update of Whale Photo OS this time is the integration of Whale AI Voice, the latest smart voice solution recently released by ZEASN. Whale AI Voice can provide customized Alexa skills with a wide range of voice commands for digital photo frames. With Amazon's Alexa support built in, the new Whale Photo OS would help its global customers stand out in the fierce smart home IoT devices market.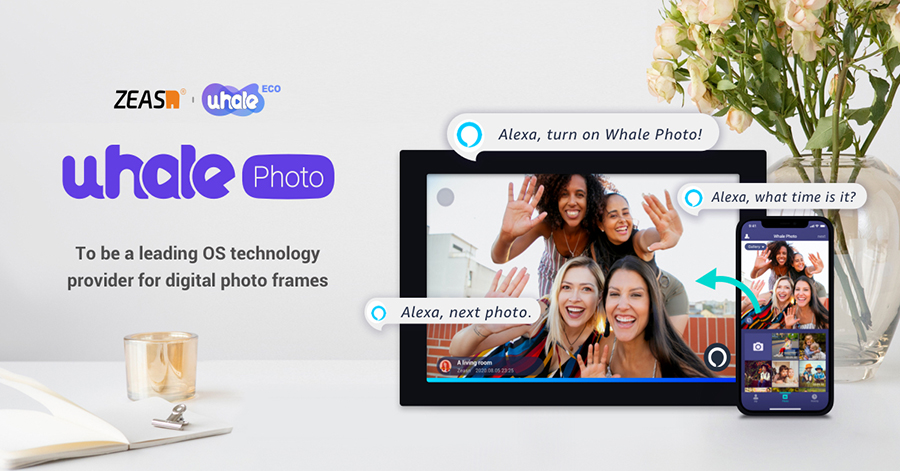 Whale Photo OS
● Provide one-stop smart solutions for digital photo frames (system software, cloud service and mobile app)
● Flexible, interactive and fun experience
● Support multiple control modes: Remote, Touch and Voice
● Mobile app perfectly supports Android and iOS
● Efficient and safe cloud support service: distributed in Ireland, the US, Brazil, India, Singapore, Hong Kong, Taiwan, etc.
As a professional cloud-based photo frame OS software, Whale Photo OS can provide global customers with one-stop smart solutions: including photo frame system software, cloud management platform, and mobile app. On the digital photo frame side, Whale Photo OS is compatible with Android 6.0 and above, it has a simple and smooth UI interaction design, making photo management more efficient.
With the built-in motion sensors, the Whale Photo OS-powered digital photo frame will turn its screen on/off automatically to save more power. In addition, users can customize the digital photo frame according to their preferences: including Display/Hide photos, Gallery Management, Device Management, Time & Region settings, Language settings, Display & Visual Effects, etc.
The integration of Whale AI Voice makes digital photo frames running Whale Photo OS smarter and easier to use. The voice commands can easily achieve interactive functions such as wake-up of the photo frame (near-field/far-field voice), play/pause photos, control volume/video playback, etc. Moreover, a great number of Alexa skills are seamlessly integrated into Whale Photo OS: daily news summary, music playback, weather forecast, encyclopedia search, set timers, etc. All can be perfectly presented on the digital photo frame to make your life easier at home.
On the mobile phone side, the Whale Photo app is compatible with both Android and iOS. When logging in to the app for the first time, there will be a convenient guide to help you go through the application. It's quite simple to bind the photo frames, send photos to multiple devices, and send/undo send multiple sets of photos, which is handy for users to share wonderful moments anytime, anywhere.
"We are proud to launch the industry's first digital photo frame solution with integrated Alexa voice service. ZEASN has accumulated rich experience in the field of smart voice technology. We also maintain close cooperation with the Amazon Alexa team. Integrated AI voice Technology has made Whale Photo OS a more complete and powerful solution."
Lewis Zhang, General Manager of ZEASN and Head of the Whale Photo OS team, said:
"Our team always try their best to improve products and make design innovations. Currently Whale Photo has introduced a bunch of new features, including floating assistant, automatic binding by scanning codes, undo send photo, and Dropbox integration, etc. We want our users to have the best experience with the digital photo frame. Through this brand new Whale Photo OS, we can provide customers and partners the better service they need and make it easier and more interesting for everyone to share happiness."